Special Delivery

This is a place where you can a special cheer to your friends that come with some music too.
All you have to do is choose which cheer you want to sent them and click on the link (to get to the page). Then you can forward that cheer to your friend through messenger or by sending them an e-mail telling them to go to the URL to check it out for themselves (the URL is given beside the link).
*Hint: when e-mailing to a friend, you can cut and paste the URL address rather than retype it.
So choose one you like and deliver away! Pooh is so excited to send a special cheer to your friends!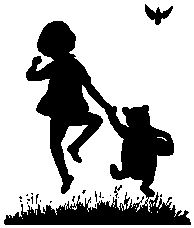 (Christopher Robin and Pooh being jolly)
Birthday Cheer #1 https://members.tripod.com/~GhislaineChan/postcard/birthday1.htm
Birthday Cheer #2 https://members.tripod.com/~GhislaineChan/postcard/birthday2.htm
Birthday Cheer #3 https://members.tripod.com/~GhislaineChan/postcard/birthday3.htm
Friendship Cheer #1 https://members.tripod.com/~GhislaineChan/postcard/friend1.htm
Friendship Cheer #2 https://members.tripod.com/~GhislaineChan/postcard/friend2.htm
I Love You Cheer https://members.tripod.com/~GhislaineChan/postcard/love.htm
Have a Pooh-rific Day Cheer https://members.tripod.com/~GhislaineChan/postcard/pooh.htm
Happy Valentine's Day Cheer #1 https://members.tripod.com/~GhislaineChan/postcard/valentine1.htm
Happy Valentine's Day Cheer #2 https://members.tripod.com/~GhislaineChan/postcard/valentine2.htm
Happy Valentine's Day Cheer #3 https://members.tripod.com/~GhislaineChan/postcard/valentine3.htm
Merry Christmas Cheer https://members.tripod.com/~GhislaineChan/postcard/christmas.htm
---
ghischan@hotmail.com

This page was last modified on 01/13/06 11:42 PM